Investments #
Making capital generate more capital is a useful skill that many people dream of mastering. Our project provides an opportunity to experience the basics of the investment craft and allows you to gain the skills and instincts of a real investor. Having mastered this area, you will acquire the most important skill that will make your money make money in real life.
Securities #
Owning securities of various gaming companies and funds can be very profitable. But not everything is as simple and carefree as it might seem at first glance. A real investor is concerned about the safety of income and the safety of securities, so place them only in reliable safes!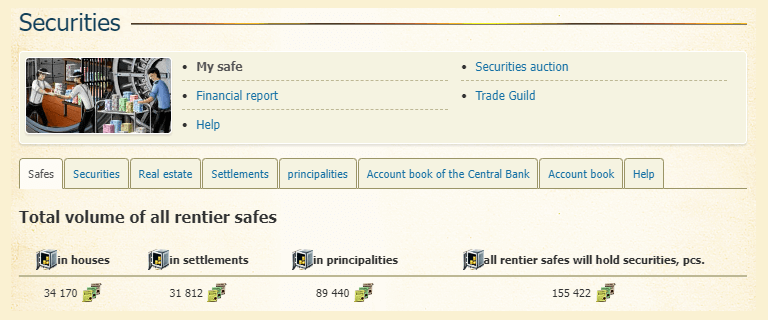 Developments #
Some of the resources in our world cannot be obtained by a single character - they can only be obtained through the consolidation of the efforts of a large number of players or a large number of other resources. These resources are needed to build various unique buildings. In addition, taking into account the peculiarities of their extraction, such resources can be sold profitably at the exchange.

Real estate #
Owning real estate has always been a profitable business: you can live in a house yourself or rent it out. The same thing happens in our virtual world: you can place your clones or rent out real estate to other players. In addition, near the houses there are plots of land available for growing crops. And in the houses there are special safes for securities.
The game has many different levels of residential buildings - a clone can live in a small wooden house or rent a place in a huge castle. The more comfortable the house where the character lives, the more stamina he restores per night, which means the lower the cost of the products he produces. Therefore, investing in real estate is very beneficial.
You can read about other benefits of owning real estate below.
Residential buildings are just a basic unit in this section. In addition to them, there are settlements, principalities and other real estate in which you can invest profitably.

---
Here we have briefly described only the most common modules. Also in the game you can build and rent portals, training arenas and other structures to improve your combat characteristics. Gems are gained at the mines to build architectural wonders and a princely palace. This list of features will make you feel like a real investor!