Rewards for players #
Real rewards for virtual achievements
---
Virtual is real! In the Golden Clone game, upon reaching certain levels, players get more opportunities, which helps them increase their profits. However, the creators of our virtual world decided that this is not enough, so they periodically organize truly great competitions, the prizes of which are not only virtual valuables, but also real personalized souvenirs!
Imperial Gold Card #
The first golden card was awarded in 2010. 585-carat gold was used to make this exclusive gift for emperors and empresses. The total weight of the product is 44.36 grams. The handcrafted crown, weighing 3.5 grams, is set with seven 2mm diamonds at the base and five 1.3mm diamonds at the cross. At any events organized by the Golden Clone project, the gold card is a distinctive sign of the highest priority!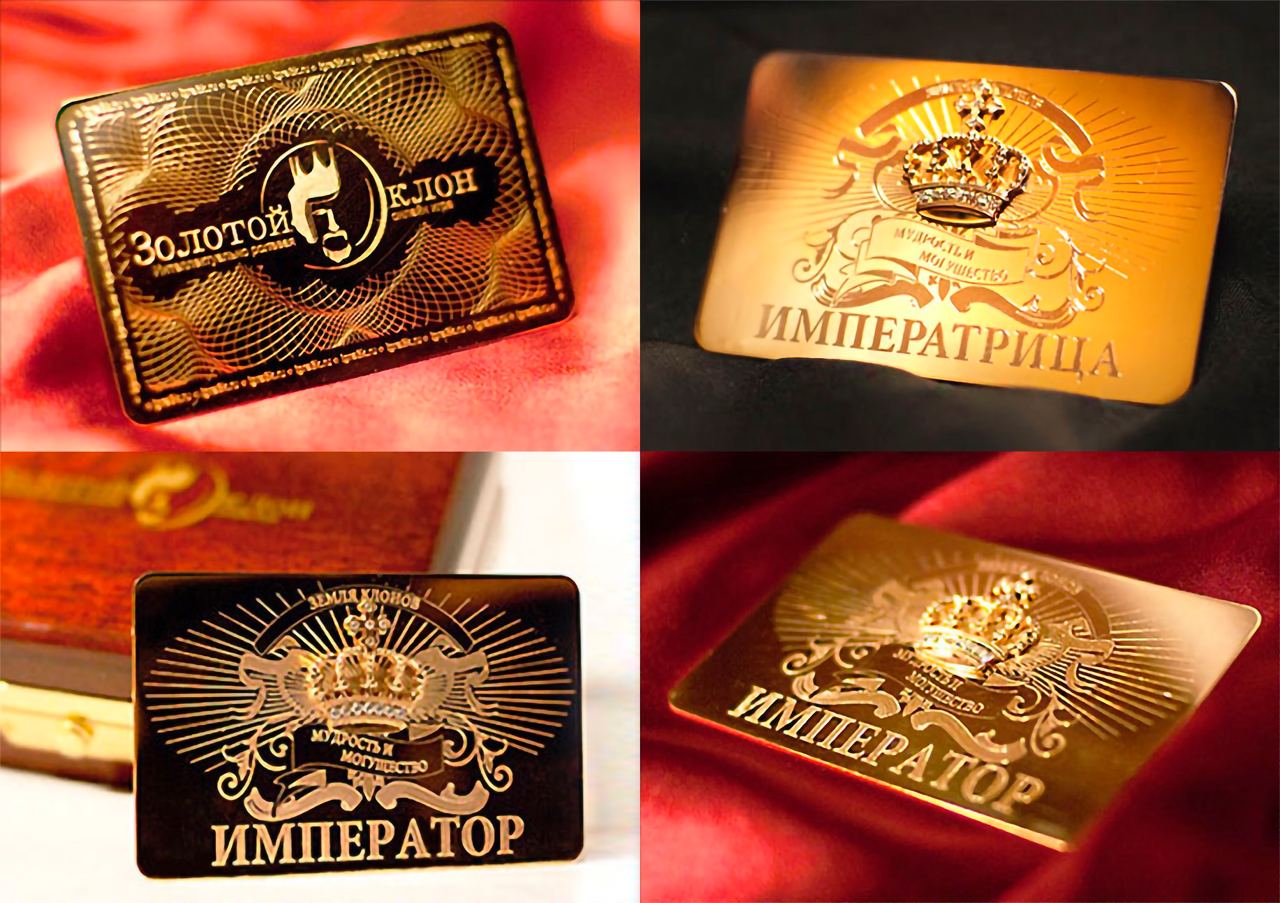 Silver City Planner Card #
Silver was used, the total weight of the product was 44 grams. Weighing 4 grams, this handcrafted city key features 1 2mm diamond and 4 1.3mm diamonds. The first silver card was awarded in 2011.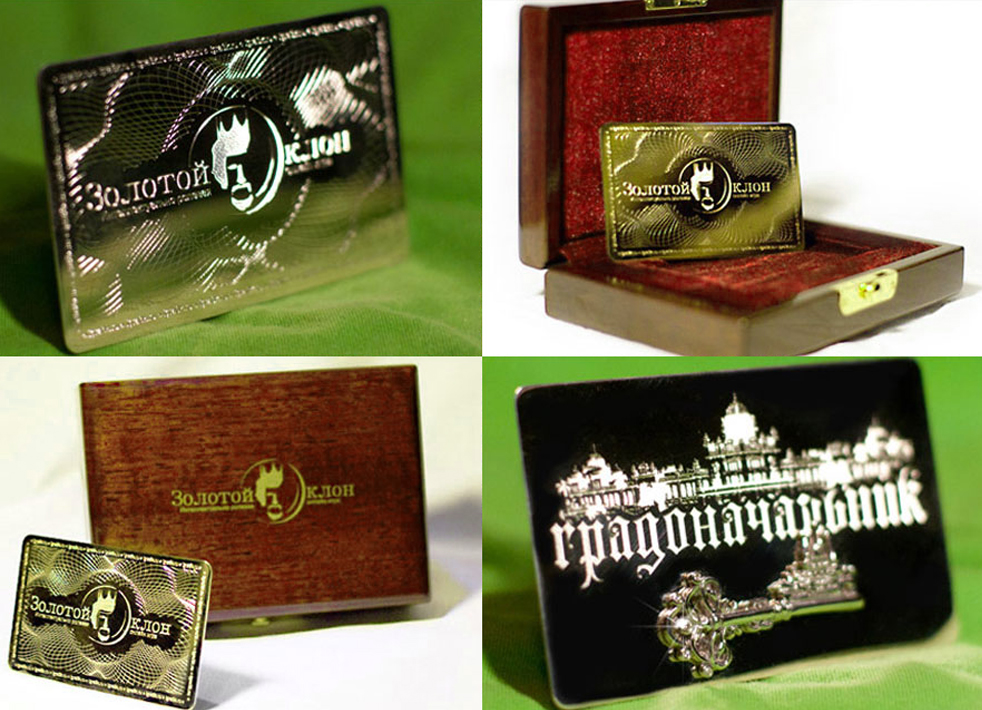 Architect's Golden Ring #
This award began to be presented in 2011. The first 11 players to build the architectural wonder "The Great Sunflower" received this gift. 585-carat gold was used. The men's ring is decorated with a large emerald and four diamonds, and the women's ring with an emerald and six diamonds.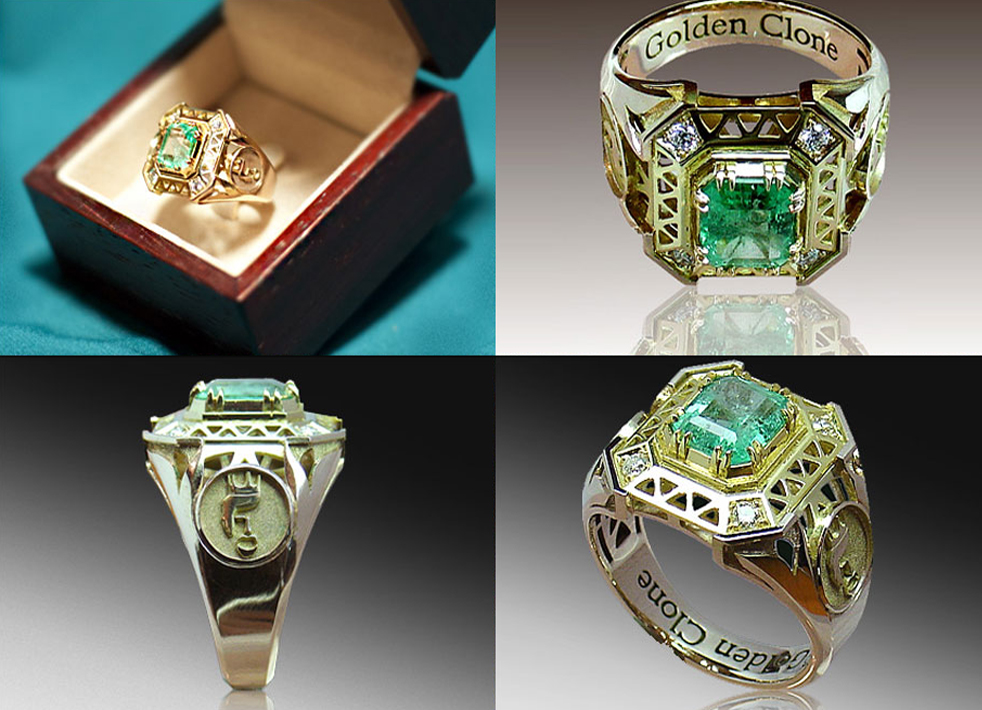 Builder's Golden Ring #
A gift for the first 18 players who build the architectural wonder "Warrior Statue", "Amphitheater" or "Carved Tower". 585 gold was used, women's and men's rings are decorated with large emeralds and diamonds. The first Great Builder Ring was awarded in mid-2012.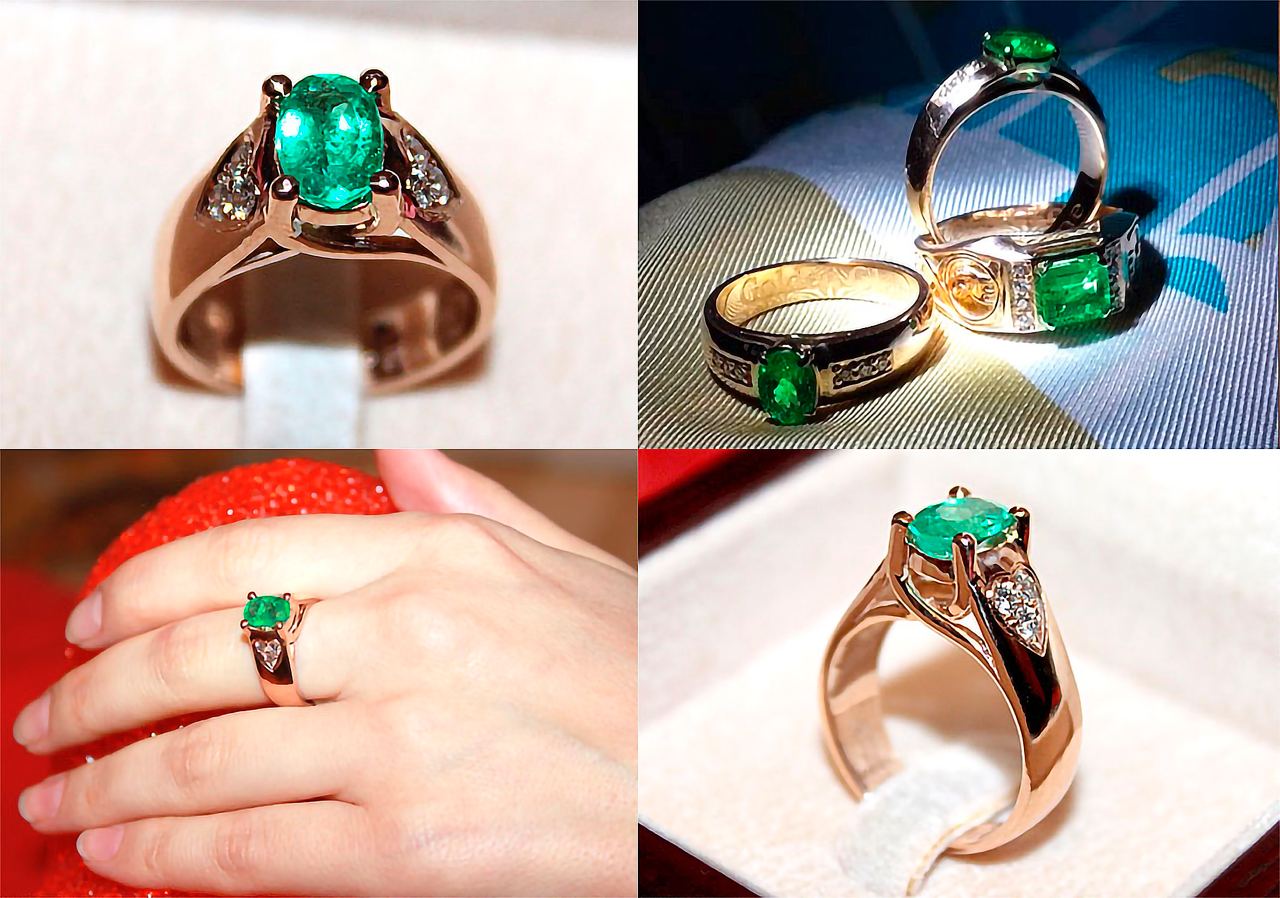 Architect's pendant #
This award began to be presented in 2013. This magnificent gift was received by the first 11 players who built the architectural wonder "Great Spike". Sapphire crystal and 6 grams of 585 gold were used. The pendant is decorated with an emerald and three diamonds in the crown. The name of the clone who built this architectural marvel is engraved on the glass.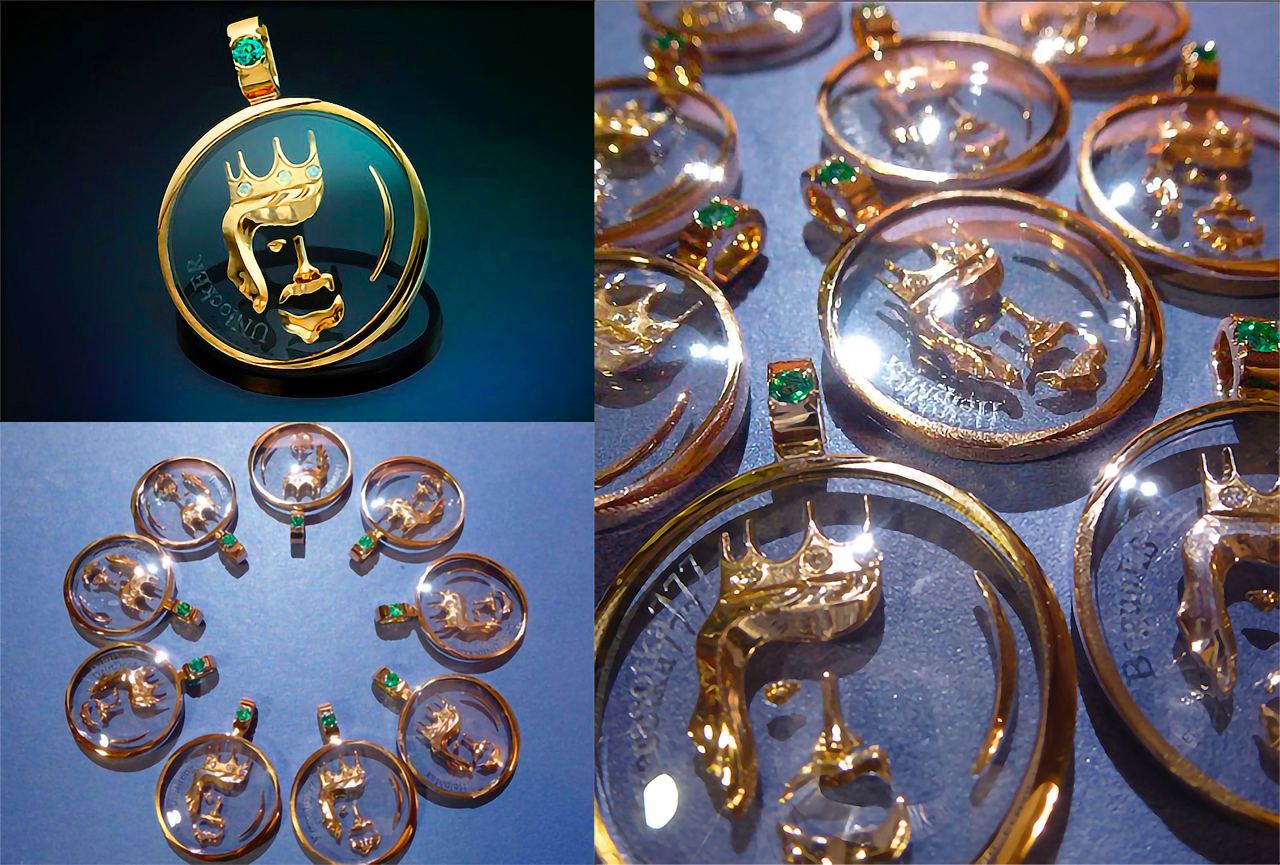 Flagship gadgets #
Flagship gadgets were awarded in 2017 for the construction of the architectural wonder"Queen of the Night". In total, 10 different top models of phones and tablets were awarded.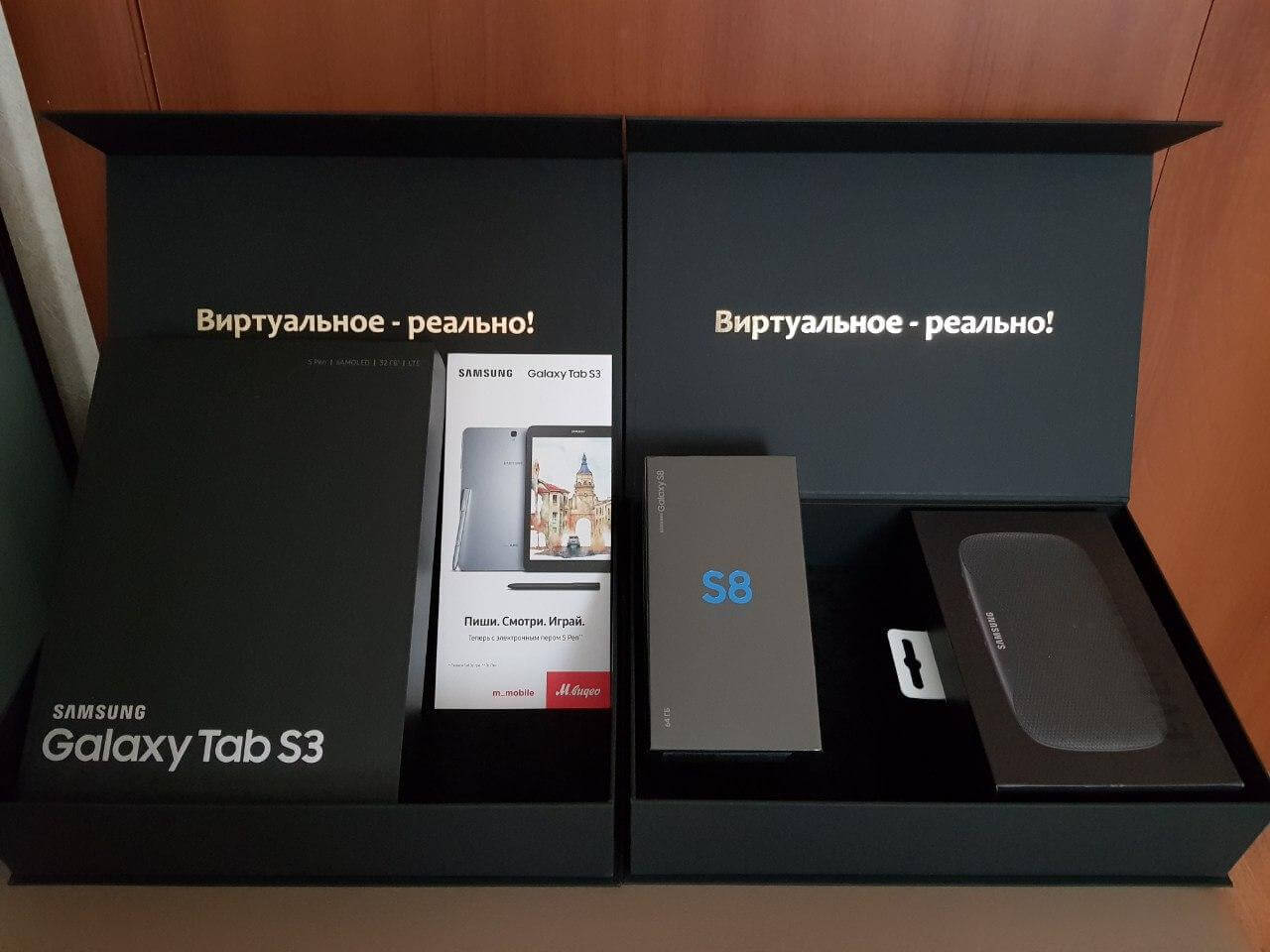 ---
How many projects have you come across in which each player has the opportunity not only to earn money with his own mind, but also to receive exclusive valuable gifts with his nickname? This is prestige! This is a memory for life! This is the "Golden Clone"!
Notice about trademarks.
The Samsung name, the Samsung logo and all related names, logos, product and service names, designs and slogans are trademarks of Samsung Electronics Co., Ltd. Samsung was not a sponsor or in any way associated with this promotion. The use of any trade name or trademark is for identification and reference purposes only and does not imply any association with the owner of the trademark.