Resource mines #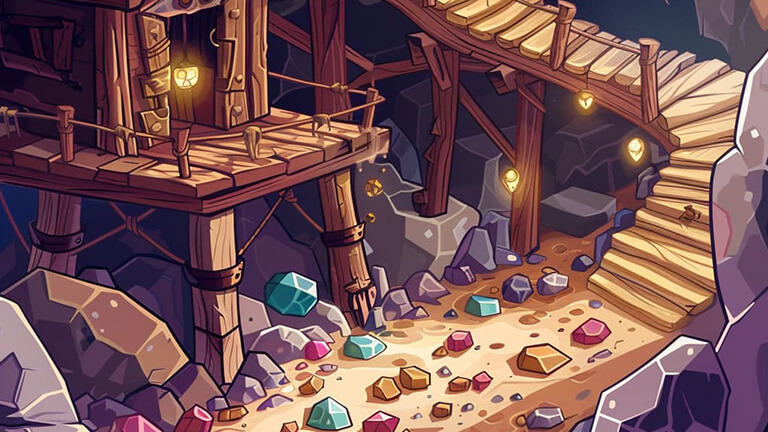 On the land of clones, nine types of mines have been opened, which allow the extraction of various resources, such as sapphires, amethysts, rubies, emeralds, diamonds, amber, elvereon stone, portaline stone and black pearls. In addition, you can mine a certain amount of gold every day (with the exception of amber mines, black pearl mines, sand mines, Elvereon and portaline mines).
To trade precious metals and stones profitably, consider buying a mine.
You can purchase mines at a mine auction. You can find additional information about mine trading in the corresponding section.
Types of mines #
There are 11 types of mines in the game:
site on the river (sapphire mining);
large river mine (amethyst mining);
quarry site (ruby mining);
large quarry mine (ruby mining);
small mining (mining amethyst and emerald);
large mining operation (ruby and diamond mining);
amber mine (amber mining);
Elvereon mine (Elvereon mining);
mine portalina (mining portalina);
black pearl mine (black pearl mining);
sand mine (sand mining).
Detailed information about the type and quantity of resources mined, gold mined and the nominal value of mines can be found in the game on the "General Statistics" page ("Investor" → "Resource Mines" → "General Statistics").
It is also worth noting that when developing an amber mine, there is a chance to find an amber stone with a drop of the blood of an ancient dragon frozen inside it. The chance of finding such a stone is 1 in 10,000.
Elvereon stone mines are available only on the Enclave game server, and Portaline stone mines are available only on the Metropolis game server.
Right to development #
Clones of the social status "artisan" and above have the right to develop mines, subject to obtaining a geologist's education at the university.
The right to develop a mine for a period of 120 days can be purchased at auction. New mines discovered by government geologists in the clone lands are coming up for auction.
However, it should be noted that the mines of sand and black pearls require a lot of preparatory work and are located in hard-to-reach places, so the regularity of their arrival at auction is unknown. If you want to become the owner of such mines, carefully follow the mine auction! Information about the release of other types of mines is reported in game news.
Any clone with the appropriate education has the opportunity to buy an unlimited number of mines.
The right to develop a mine can be purchased for gold coins, gifts or water, depending on the type of mine. However, it is worth noting that the amber mines, Elvereon and portaline stone mines are only available for gold coins.
After purchasing a mine at an auction, it cannot be sold to other players. However, stones mined from the mines can be freely sold on the commodity exchange.
Mine development #
To develop each mine, you need to spend 6 units of stamina daily. If the clone owner of the mine does not have enough stamina, then production at the mine is not carried out on that day, but the mine development period is reduced by 1 day. It is important to monitor your stamina level and maintain it through the refectory.
The gold you mine is credited to your game account at a certain time every day. However, it should be noted that the amber mines, black pearl mines, sand mines, elvereon and portaline mines do not provide the opportunity to pan for gold. Gems found in mines may not arrive daily as it depends on the type of mine. If found, they will be available in the inventory of the clone owner of the mine.
Table. Resources obtained from mines
| | Type of mine | Resource (on average for 120 days) | Gold (average per day) |
| --- | --- | --- | --- |
| | Plot on the river | 120 sapphire | 0.00195 |
| | Large river mine | 120 amethyst | 0.0041 |
| | Plot in a quarry | 60 ruby | 0.0065 |
| | Large quarry mine | 120 ruby | 0.01085 |
| | Small mine working | 60 amethyst and 60 emerald | 0.01305 |
| | Large mine working | 60 ruby and 49 diamond | 0.0218 |
| | Amber mine | 240 amber | - |
| | Elvereon Mine | 240 elvereon | - |
| | Mine portalina | 240 portaline | - |
| | Mine of black pearls | 12,000 black pearls | - |
| | sand mine | 120 sand | - |
After 120 days of work, the mine is considered fully developed and disappears.
The Amber Mine also gives you a 1 in 10,000 chance of getting amber with a drop of dragon's blood.
Application of resources from mines #
Gems can be sold at the trade guild if you have the right to trade there (clone status "peasant" or higher).
Important! To transfer stones from one clone to another on your account (for example, for sale), you need to build a storage facility.
In addition, precious stones can be used in the following ways (main capabilities)/
Sapphire, amethyst, ruby, emerald, diamond #
Stone "Amber" #
Use to make a magic moon plate.
Use to build and repair the amber cave for dragons in the principality.
Use to build landing pads for dragons on your property.
Elvereon stone #
Use to make an amulet that increases the sense of dragons.
Use to build landing pads for dragons on your property.
Portal stone #
Use to build portals in your settlement.
Use to transport resources between servers through portals.
Black Pearl #
Sand #
Thus, gems from the mines provide a variety of opportunities to improve your gaming experience and progress in the world of clones. You can use them for construction, item production, trading and other purposes depending on the type and quantity of stones you have.