Extraction of megaliths #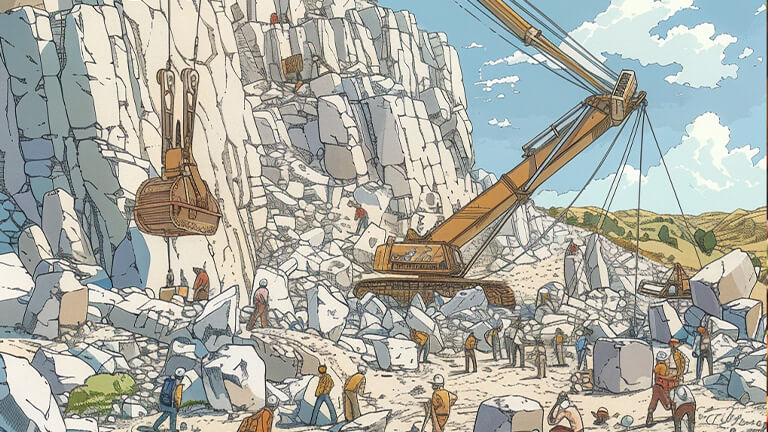 Megaliths are valuable resources that can be used to construct various megalithic structures in the game. Therefore, mining megaliths can be an important part of the game strategy for the development of your clone and his empire.
In order to participate in the mining of megaliths, a clone must have the status of "bourgeois" or higher.
A clone who wants to mine megaliths must study the Megalithic Structures Engineer specialty at the university. This training provides the clone with the necessary knowledge and skills to successfully mine megaliths.
To begin mining megaliths, a clone must purchase a "Megalith Mining License." These licenses are available for purchase at the charter auction at the time of issue. Typically, issues are carried out periodically, and during this time clones have the opportunity to purchase such licenses.
After purchasing a license, the clone must invest all the necessary resources into construction. This resource will be used to mine megaliths. After meeting all the requirements and investing resources, a clone with a license and the necessary knowledge will begin mining megaliths.
Cost of building a development #
Construction of a basalt mine occurs quickly and does not require a lengthy process. You will simply need to provide all the necessary resources specified for construction.
Table. Amount of resources for basalt development.
| | Resource | Quantity |
| --- | --- | --- |
| | Foundation block | 50 |
| | Floor block | 100 |
| | Cladding slab | 200 |
| | Brick | 400 |
| | timber | 50 |
| | Edged board | 100 |
| | Mounting rail | 200 |
| | Lining | 400 |
| | Channel | 5 |
| | I-beam | 10 |
| | Corner | 20 |
| | Armature | 40 |
Obtaining megaliths #
The constructed basalt mine produces the megalith resource in the amount of 1 piece/day within 3 days after completion of construction. After which the development is closed. The mined megaliths are handed over to the development owners every day.
The owner of the development can dispose of the received resource at his own discretion: sell it in a trade guild, use it as one of the materials for construction. The possibilities for using megaliths will expand as new game modules are launched.
One clone can only mine one basalt mine at a time.